GET AN EXCELLENT REPORT CARD FOR THE FOURTH TERM
Thursday, 11 November 2021
By ASP School Projects
Study Quickly And Easily With Practice Papers.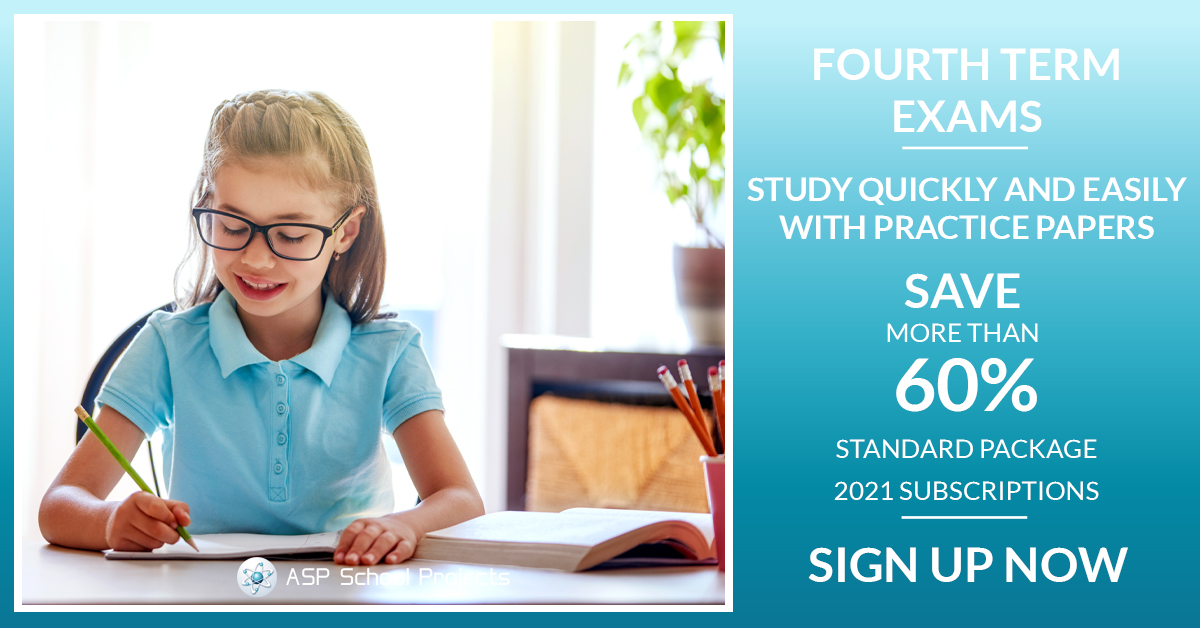 The exam period is a stressful time for many children.


Fourth term exams:
1. Study quickly and easily with practice papers.
2. Save 60% on the standard package.
3. Products.
4. Valuable exam tips.
5. Sign up with us.


1. Study quickly and easily with practice papers.
An easy solution to ensure that your children are ready for the exams is to simply practice how to write exams. This method is so obvious that it is often overlooked.

The advantage is that it gives your children the opportunity to test themselves in a stress-free environment. It is important to transfer the knowledge they have acquired in the exam paper format.

They'll walk into the exam hall with confidence once they are used to writing exams.


2. Save 60% on the standard package.
Standard Package R550 per grade

To give your children a boost to get excellent marks for the fourth term's exams we offer the Standard Package at a special price: R550 per grade. Save more than 60%.

The Standard Package is ideal for exam preparation and includes:

The entire grade's papers with answers for all subjects and for all four terms. All question papers contain memoranda (answers).

Please note
The offer ends November 21, 2021.

This is your last chance to sign up for a 2021 subscription (which will end this year on December 31, 2021). This offer is aimed to help your children succeed in their Fourth Term Exams.

If you have already signed up for this year and would like to get an early head start on next year's planning, please wait until November 22. We will have a very special Black Friday offer for you. All orders placed from November 22 onwards will be processed as subscriptions for 2022 (the grades your children will be in then).

If you have signed up via the monthly debit order option, your subscription will be transferred to the next grade for 2022, unless we receive notification to cancel your subscription.


3. Products.
We help children with exam preparation.

Click on the grade of your choice for details.

FOUNDATION PHASE
Grade 1
Grade 2
Grade 3

INTERMEDIATE PHASE
Grade 4
Grade 5
Grade 6

SENIOR PHASE
Grade 7
Grade 8
Grade 9

FURTHER EDUCATION AND TRAINING PHASE
Grade 10


4. Valuable exam tips.

5. Sign up with us.
Save valuable study time and write exams with confidence.

Register on our website to create your profile and login details. An account is required to activate your subscription with downloadable products.

Please visit this page for steps How To Sign Up.


May your children excel in their exams for term four.

Sign up now
© ASP School Projects. All rights reserved. All information herein is the intellectual property of ASP School Projects and is protected by law, including but not limited to copyright law. No information may be reproduced, copied, distributed and/or resold in any way without the written permission of ASP School Projects. ASP School Projects further reserves the right to withdraw any consent given if we are of the opinion that the user is in breach of, or transgressing, any conditions under which consent was given. Excerpts and links may be used, provided that full and clear credit is given to ASP School Projects with appropriate and specific direction to the original content. If images are used, our watermark may never be cut off or removed. We encourage our readers to share our articles via email and social media networks through our links. Please see our Terms and Conditions if you are uncertain about the use of our material.
DID YOU ENJOY THIS ARTCLE?
If you have enjoyed this article, subscribe to our newsletter. You will receive free valuable advice and tips to boost your children's academic performance.
LEAVE A COMMENT
We would love to hear what you think. Leave a comment on this article.
Your personal contact details won't be published, only your name.
We aim to be transparent. All negative reviews or positive critique will be published.
Your feedback will be reviewed for any profanity before being published.
---